Hair loss is a common condition that comes with age, but knowing that doesn't necessarily make it any easier to deal with. A certain amount of hair shedding is normal (say 100 strands daily), but it can be pretty daunting to handle if it's more than that.
How to stop hair fall? Fortunately, there are several simple tips and actions you can implement to help reduce hair loss.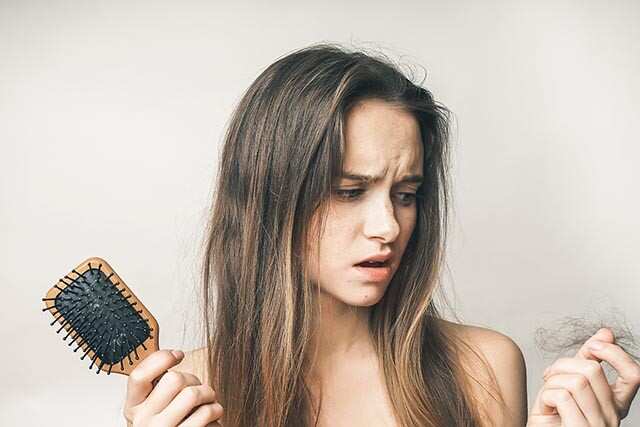 Maintain a solid diet
Protein is the essential building block for all sorts of tissues, and that includes hair as well. Make sure you are consuming enough protein from dietary sources like milk, fish, and eggs.
Incorporating vitamins and omega-3 fatty acids into your diet can also help with hair growth. You can get omega-3s from nuts and fatty fish like salmon and seeds like chia seeds and ground flaxseeds. For a quick dose of vitamins C and E, eat some almonds and berries every now and then.
Consult a hair doctor
If you start losing hundreds of strands of hair at a young age or quite suddenly, you must take action. Unexpected hair loss can be associated with a lot of things. It can be a symptom of stress, hormonal imbalance, nutritional deficiency, disease, or certain products or medications.
If you suspect any pattern or a potential triggering factor for your sudden hair fall, consult a hair doctor and don't hesitate to bring it up. When it comes to your hair (and your health), it's better to be safe than sorry.
Quit your bad habits
If you are serious about reducing hair loss and having a healthy scalp, then it's time to quit a few bad habits. Smoking, for example, can damage the functioning of the heart and the structure and functioning of the blood vessels, harming your circulatory system. Quitting smoking can improve circulation throughout your body, including your scalp, which will help strengthen your hair and speed up the hair growth process.
However, smoking isn't the only bad habit that affects your hair and scalp. Here are a few more bad habits worth saying goodbye to for the sake of your hair:
Not drinking enough water
Not getting enough sleep
Too much exposure to the sun
Regular exercise
Exercise can really help stop the loss of hair, both in the short and long term. In the short term, breaking a sweat with an exercise regime (it doesn't have to be a rigorous one) can help flush oil and dirt out of your hair follicles and promote healthy hair growth.
In the long term, regular exercise can be a powerful tool to relieve stress (which often contributes to hair loss) and keep your mind and body healthy, resulting in longer, healthier locks.
Treat your hair better.
Hair loss is not just the unusual amount of hair shedding but also the deterioration of individual strands' quality. Our hair tends to get drier and more brittle as we get older, so it's important to treat it gently to avoid breakage and trigger more hair fall. Some tips you can implement to be more kind to your hair.
Avoid using hot tools as much as possible, and if/when you do, keep the heat setting to the lowest.
Don't change your hair color too often, as the process tends to make your hair more brittle.
Avoid unnecessary combing, brushing, curling, or straightening to keep your roots firmly intact.
Don't use too many hair products as they may seem beneficial for your hair at first, but they may do more bad than good in the long run. Some of them contain toxic chemicals which can damage your hair follicles beyond repair.
Great! Now that we have discussed a few proven actions to reduce hair loss let's look at how you could treat this condition. You need a proper hair fall treatment method along with these tips so you can speed up the process of recovery effectively.
Hair fall treatment in homeopathy
Homeopathy is one of the healthiest ways to treat your hair fall problem. Hair loss, as we have seen, can be related to a lot of internal problems. Hair fall is associated with many factors and medical conditions, and to treat it, one must find the fundamental cause.
Hair fall treatment in homeopathy
works exactly like that. It gets to the root problem by examining each patient uniquely; their medical history, psychological history, lifestyle choices, etc. Based on the examination, custom-made homeopathic medicine for hair loss is provided to each individual. These homeopathic medicines are extremely effective, and they present no side-effects at all. They can be taken for as long as needed, and the individual does not have to worry about any sort of addiction.
Conclusion
Out of all these ways to treat hair fall, homeopathy looks to be your best bet.