As when parents get older, their medical needs also keep on increasing. To meet these health needs, you need to look out for the perfect health insurance plan for your parents. Some medical insurance plans are specially designed for individuals between the age of 60-80 years. These health insurance plans cover all medical expenses and critical illnesses and surgeries. With the rising medical costs, it is essential to safeguard your parents entering old age with health insurance. As your parents grow old and reach the senior citizen mark, they stick to limited spending and will become more dependent on you to be their support throughout. Getting a senior citizen plan by Future Generali would be the right option for your parents.
Have health insurance for your parents will save you from the expenditure of hospital bills and also keep the life savings of your parents intact.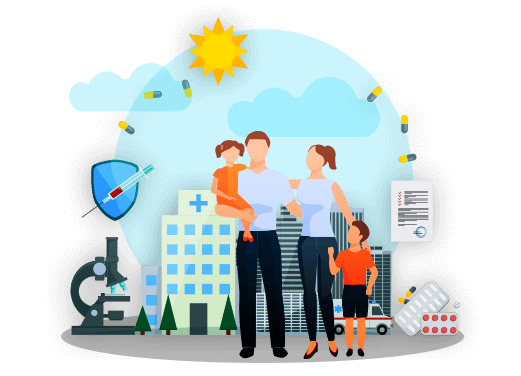 What are the benefits of health insurance for parents?
There are many benefits involved with the decision of getting a health insurance policy for your parents. Listed below are a few benefits.
Financial Savings:
You parents strive their entire life to have enough savings with them so that they can live freely without being dependent on you. In case, your parents are covered by health insurance, and one of them is diagnosed with a critical illness, then they will not have to splurge all their life savings and become financially weak.
Cashless facility:
If you decide to get your parents treated at a network hospital, then you can enjoy the cashless facility, and the entire expense of hospitalization will be covered by the insurance plan. You would not have to spend any money from your pocket.
If you are looking for a health insurance policy for your parents in India, you can directly visit the Future Generali website, and purchase a senior citizen health insurance plan called the Future Varishta Bima.
The Future Varishta Bima is a medical insurance plan designed especially for senior citizens. This health insurance provides cover to any individual from the age of 60 and above. This health insurance is available on both individual and family floater basis.
This medical insurance plan has a minimum policy term of one year and a maximum policy term of three years. The minimum entry age of the proposer is sixty years, while the maximum entry age and renewal age is set at lifelong.
What is covered under this health insurance?
Inpatient services like room rent, nursing expenses, medicines, drugs, diagnostic materials, X-Ray, operation theatre charges, consultants, specialist fees are included in health insurance.
Daycare treatment expenses, pre-hospitalization medical expenses and post-hospitalization medical expenses are also covered.
Road ambulance charges and free annual medical checkups are included under additional covers.
Other features of Future Varishta Bima
You will be applicable for a family discount if two or more members of the family are insured under the same policy.
If the premium for long term-payment is paid upfront, then you are applicable for 10% discount.
Instalment facility for premium payment is available for monthly, quarterly and half-yearly payments.
If the premium of this policy is paid by any medium other than cash, then it is liable for tax relief under section 80D of the income tax act.
If you are looking out for a health insurance policy for your parents, and are wondering how to get one, connect with Future Generali or directly visit the website to view senior citizen health insurance option.